Product catalog
Pure Vietnamese art exhibition in the capital of exotic masks
14/03/2017
The 14 works, the pure Vietnamese craftsmen of Non Nuoc craftsmen have been chosen to exhibit at the foot of Ngu Hanh Son Mountain (Da Nang city) .The Danang Culture, Sports and Tourism in collaboration with the People's Committee of Ngu Hanh district Son exhibited 14 works of art, Vietnamese art of 12 establishments in Non Nuoc stone village.
This is the result of a campaign to create Vietnamese culture with the Vietnamese identity presided over by the Da Nang culture. In 7 months, the craftsmen of the Non Nuoc stone village have invested much effort to produce the samples, not only beautiful in beauty but also sophisticated, flexible with many motifs and especially pure Vietnamese .
The purpose of the exhibition is to help Non Nuoc stone village people know how to distinguish the image of phosphorus, pure Vietnamese as well as introduce models for manufacturing enterprises. However, the exhibition is held at the courtyard of the management board of the Ngu Hanh Son tourist resort (No. 81 Huyen Tran Cong Chua street) attracting very few people as well as visitors to enjoy.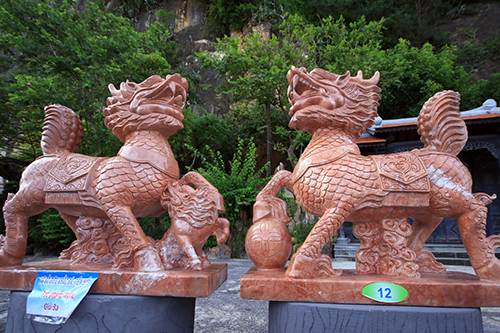 Ngu Hanh Son is the capital of exotic mascots. The craftsmen of Non Nuoc stone village have followed a number of orders everywhere for lions, pagodas shaped like Chinese, European style to put in front of the house, office ... Even many temples The pagoda also displays these exotic mascots.
Late last year, when the Ministry of Culture proposed relocating exotic masks from the monument, organizing propaganda about the meaning of exotic lions, the people did not seek to order. Non Nuoc stone workers are also languishing due to lack of work.