Product catalog
What feng shui statue means
14/03/2017
The buffalo has long been associated with durability, gentle virtue, strong symbol of good health, good enough. The buffalo of the 12 plankton is the Ox, in the scheme of the Eight Trigrams, which is the goat, the landlord, bringing prosperity and sustainability.
When placing feng shui statue in the house not only to decorate the room, according to Feng Shui it also has the effect of bringing fortune.If you have a buffalo in the house but only in a place suitable for the room. The statue is just a normal decoration as other decorations. To promote the full feng shui of the statue, you should set north or northeast of the house is suitable feng shui and promote its spirit. Avoid buffalo iconography in the south or southwest.
The statue is also located in the living room, on the desk, where crystal vases like Bach Bach, Bat Bach match. Avoid placing at the toilet, on the study table, altar or where the cruelty Nhi Hac, Tam Bich show.Due to the Ox, the feng shui statue helps to support the old age, Dau, Suu. Ox - Scurvy conflicts so that the Mui people are not suitable to use, the statue will not be able to promote the spirit.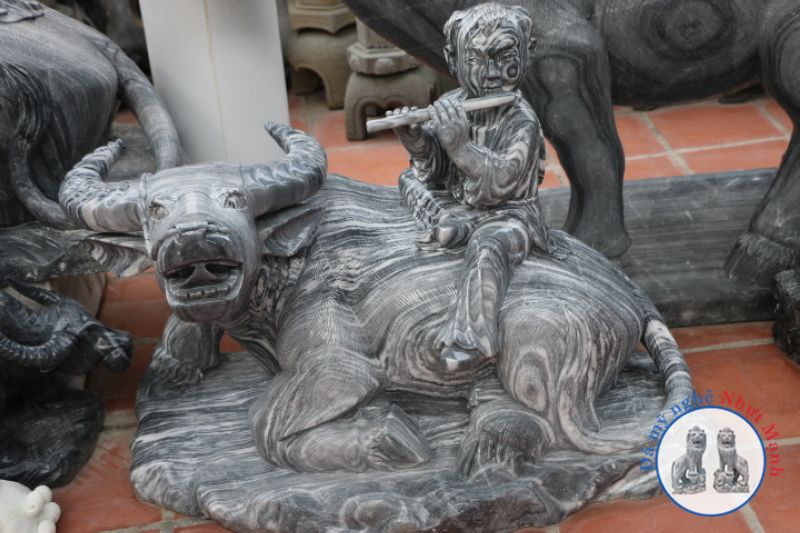 To conform to the feng shui, the symbol of buffaloes is used in many forms such as painting, sculpture ... Buffalo statue is also feng shui items but pay attention to the material. According to Feng Shui, the statue of Trau with gold-plated stone powder is good for metals and good for fortune, good for business, real estate or long-term investment. In addition, in the Feng Shui, the statue is also used for processing. It is possible to use the brass statue or terra-cotta stone powder, but when the layout must be combined with the direction to take effect.
Do not use wooden Trau statue because of the green onion carving and feng shui do not promote the effect of the statue.
In the old days, the mandarins used the statue of a buffalo with a fleur-de-lis to show feng shui.